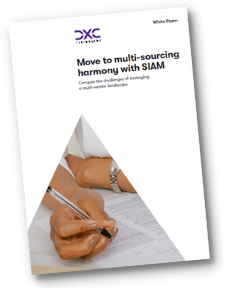 Whether you're a veteran multi-sourcer or are thinking of branching out to outsource to some new vendors, managing multiple suppliers isn't easy. But through integration and standardisation across the towers in your IT landscape, harmony is possible.
Download our latest SIAM whitepaper
With over 60% of outsourced services failing to meet the business outcomes for which they were contracted, according to research by Gartner, the challenges of outsourcing to multiple suppliers is ubiquitous. 
In this whitepaper, we'll talk you through the pitfalls faced in multi-scouring - as well as the advantages an integrated and standardised approach can bring when you implement a SIAM model. 
Signs it's time for a new approach to multi-sourcing

The benefits SIAM can bring to multi-vendor management

6 key capabilities you can't do without when outsourcing