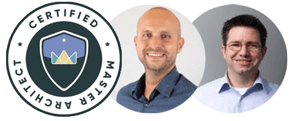 This month our collegue Wouter de Waal succesfully completed the Certified Master Architect programm of ServiceNow. We now have two collegues (Marc Herni passed the exam in 2019) that we may call "ServiceNow Master Architect". Of course we are super proud of these two, as only 48 others around this entire globe carry this title!
What can you expect of a Certified Master Architect
The Master Architect program is the pinnacle of ServiceNow certifications. A certified master architect is seen as a thought leader who shares best practices and can lead enterprise customers through the most complex and demanding ServiceNow implementations. The architect serves as ServiceNow ambassador in both the customer and partner communities and has a special blend of technical expertise and soft skills. Customers can be assured that they are receiving the best advice possible whilst focussing on business outcomes and demonstrating value.
About the ServiceNow Certification catalogue
The ServiceNow Certified Master Architect is the highest achievement in the ServiceNow training and certification catalogue. This certification recognises individuals that have mastered the entire ServiceNow suite of offerings.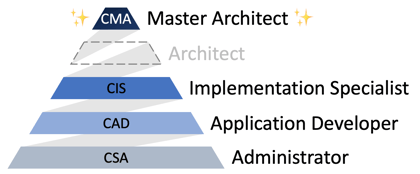 As in most domains, specialization and expertise are ranked by their difficulty and the experience required to achieve them. Graduating from High-School is easier that achieving a Doctorate. ServiceNow is aware that its current certifications range does not fully cover the expertise required for its eco-system. The bottom three tiers were useful for ServiceNow jobs like "Admin", "Developer", "Technical Consultant" or "Solution Consultant", but were not covering others like "Business Analyst" or "Solution Architect". This is why ServiceNow created two additional tiers: "Architect" and "Master Architect". As with similar certifications, the number of certified people will be capped.
How to become a ServiceNow Certified Master Architect
To be considered to take part on the Service Now Master Architect program the participant must have at least 5 ServiceNow certifications and more than 5 years of experience with large and complex engagements. Access to the program is limited to 2 cohorts per year with 25 participants at a time. It is an intensive 6-month program that culminates with the final board review. After graduation, the architect must maintain this status through continuous education, customer engagements and giving back to the community.
Check out the original post of Shiva Thomas here.