Pandemic-proof with ServiceNow: Laing O'Rourke develops custom
COVID-19 business app in record time
With the onset of COVID-19, multinational construction firm Laing O'Rourke needed to monitor developments fast. Accurate data collection was crucial to the firm's ability to keep workers safe, monitor case numbers, contact trace and keep construction sites open as an essential business sector.
Frustrated with the lack of agility in existing COVID-19 apps, Laing O'Rourke turned to DXC Technology ServiceNow, formerly knowns as Fruition Partners, to investigate leveraging the firm's long-standing ServiceNow infrastructure to create a tailored COVID-19 management app.
The resulting custom business app, assembled in record time, sees Laing O'Rourke join a host of ServiceNow clients extending the platform's functionality beyond IT within their firms, capitalising on its potential for diverse enhancements across business units.
The context: Turning to ServiceNow to track and trace COVID-19
Faced with the monumental task of keeping its construction sites safely functional during the pandemic, Laing O'Rourke soon found that existing COVID-19 apps and monitoring tools weren't agile enough to meet complex employee safeguarding, contractor management and operational demands.
Building on an excellent pre-existing working relationship, Laing O'Rourke's IT department turned to DXC to explore options for developing a tailored ServiceNow business app under phenomenal time pressure.
The challenge: Deploying a custom business app under immense time pressure
Laing O'Rourke's initial strategy of tracking COVID-19 developments using spreadsheets was quickly overwhelmed; lack of traceability and error sensitivity due to multi-user access became particular pain points. As a result, Laing O'Rourke urgently needed to implement its own custom COVID-19 management business app within a matter of weeks.
In itself, the resulting app would break records in terms of the speed and flexibility of its implementation. There was an added twist to the demand, too: while only 50% of the Laing O'Rourke workforce were pre-registered users within the company's IT system, the new custom business app would need to monitor all the firm's 6000 UK employees, plus additional workforce.
Anonymised data from non-Laing O'Rourke employees would also need to be duly collated, as COVID-19 cases arising within a contractor's workforce could, logically, affect Laing O'Rourke employees at a given construction location. The app would simultaneously need to orchestrate seniority-determined access to the centralised, analysable COVID-19 case data, alongside automatic anonymisation in line with GDPR stipulations.
"As we introduced a COVID-19 Administrator for each construction location, we needed to ensure we had a simple, consistent system to enable them to input the tracing information required to keep our workforce safe. A custom app was the clear solution to avoid errors, act quickly, facilitate vital insights and ensure data policy compliance." -
Matt Price, Head of Service Operations at Laing O'Rourke
The solution: Co-creating a rapid roll-out custom business app with ServiceNow
The DXC team quickly identified components in the ServiceNow app store that were ideally suited to underpin the firm's new custom business function.
This marked a vital early milestone for the project, ensuring the business app's rapid roll-out. By programming a custom connection between the two existing components, the DXC team delivered a tailored business app in just two weeks.
The ability to utilise Laing O'Rourke's pre-existing ServiceNow platform also raised significant advantages later in the development process. Able to access the company's existing data sets across employees and construction locations, the DXC team rapidly set up new user accounts, enhanced security provisions and granted access credentials as needed to deploy the custom COVID-19 app.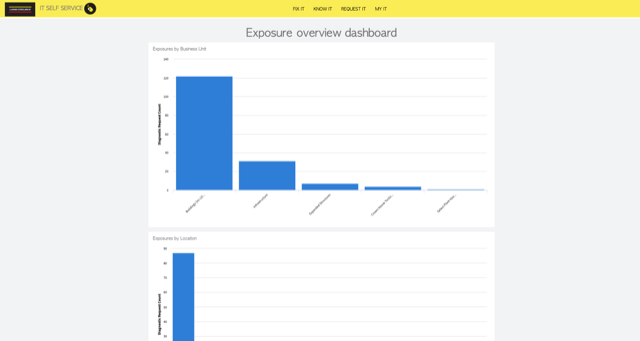 The approach: 4 weeks from design to deployment
Rapid implementation and results were the stand-out priority for Laing O'Rourke's custom business app development. Leveraging the company's existing ServiceNow platform as a crucial basis, a flexible approach and bilateral buy-in accelerated progress.
With the custom business app created in two weeks, Laing O'Rourke required another fortnight to onboard internal users: a fully tailored business app in just 4 weeks, from design to deployment.
An agile, bilateral approach for quick-fire, tangible progress
Building on the solid foundations of an excellent working relationship, Laing O'Rourke and DXC Technology ServiceNow launched an agile, high-contact strategy to deploy its COVID-19 business app in record time.
Laing O'Rourke stakeholders across business and IT/ServiceNow joined forces with their long-standing DXC Account Manager, alongside a ServiceNow developer and solution architect, to form the team that would oversee the business app development.
Mutual understanding on the absolute necessity of prioritising the business app project ensured consistent full-team attendance at update meetings scheduled every 2 - 3 days. Rapid prototyping ensured regular, tangible progress was presented at each meeting, meeting Laing O'Rourke's requirements with optimum clarity and efficiency.
The resulting agile iterations propelled the custom business app from bare bones to fully functional faster than ever.
Aligned expectations propel progress
Under non-time critical circumstances, purchasing, resourcing and administration for new functionality development entails a lengthy, cumbersome process. However, Laing O'Rourke and DXC also adopted an agile approach in this respect, outlining and actioning contractual administration in parallel to making solid strides on the business app itself.
Liaison between DXC and Laing O'Rourke IT/ServiceNow management was crucial to cementing expectations in line with what could feasibly be achieved within such a brief timeframe. With Laing O'Rourke's business representatives fully invested in documenting and onboarding the company's new COVID-19 Administrators, the business app was also rolled out far faster than usual.
"DXC Technology ServiceNow were

flexi

ble and forgiving of scope creep, providing upfront feedback when we were in danger of overshooting. As is, the business app meets all immediate needs, and we know there's scope for future

optimisation

and wider development.

" -
Matt Price, Head of Service Operations at Laing O'Rourke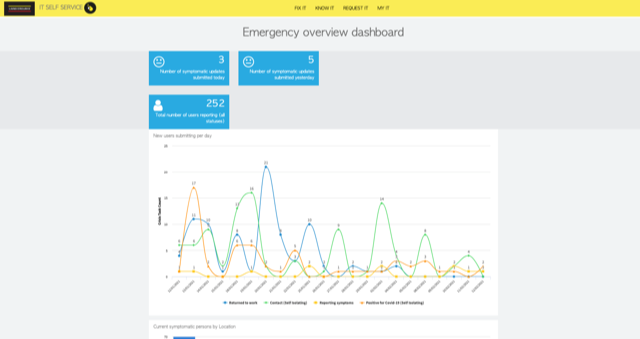 The results: A record-time business app, with exponential potential
Laing O'Rourke now has access to detailed, sophisticated reporting per location, per business unit and per contractor relationship, all operating within its existing ServiceNow reporting engine.
The tailored business app also allows easy access to project-level or company-wide data. This is a vital asset throughout the company's seniority levels, from Site Managers monitoring employee safety and productivity to C-suite executives overseeing business unit profitability and defining future strategy.
The custom business app has proved instrumental in facilitating Laing O'Rourke's ongoing and proactive management of COVID-19. Via the app's anonymised stored data, the firm has been able to record and track cases to efficiently analyse the pandemic's effects on its project sites. The app's future potential for managing similar crises is also clear.
As a result, Laing O'Rourke is investigating further expanding its ServiceNow implementation, based on this stellar example of the platform's added capacity versus its market competitors. Far from viewing ServiceNow as simply an efficient IT Service Management interface, Laing O'Rourke is set to capitalise on its power throughout the firm's ecosystem.
"
We are now

keen to look at increasing our internal capability with ServiceNow. The objective is to replace less cost-effective tools we currently use in the business, creating a fully integrated, cross-company interface using ServiceNow.

" - Matt Price, Head of Service Operations at Laing O'Rourke


Discover your potential with ServiceNow
Looking to enhance your business operations with custom apps? Contact the DXC Technology ServiceNow team to arrange a tailored consultation.