Secure. Cost-effective. Adaptable. These are definitive aims for any organisation managing multiple complex IT streams. These days, forward-thinking enterprises are seeking ways to reduce costs, while ensuring increased agility, security and resilience.
However, the majority will maintain on-premises workloads for years to come. They'll stick with a multicloud environment, spread across data centers and private and public clouds.
During rapidly changing business conditions, these types of legacy systems can be inflexible and impact the ability of the business to evolve quickly. Put simply, they'll drain value and hold your organization back.
Well-established businesses do a lot of things right; that's why they're still going strong, of course. But resolutely holding onto years-old applications often carries huge risks. Continuing to rely on legacy infrastructure can cause outages, capacity issues and high maintenance demands.
To address these business needs and gain immediate savings to invest in modernization, organizations can focus on simplifying and optimizing their IT environments, applications and processes.
But, this push for modernization can be a daunting task. That's why we rely on the proven IT4IT™ framework to guide our clients through the process, as it's specifically designed to guarantee manageable, well-structured IT transformations.
Here, we'll cover three key steps to creating a lower-cost, streamlined IT environment, which your organization can action in-house, or via IT outsourcing (ITO). We'll also dive into detail on how IT4IT can support your IT update at each step of the process.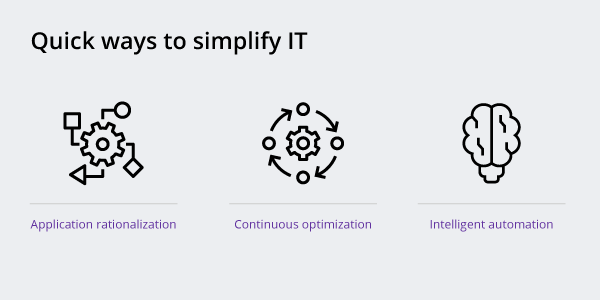 Quick ways to simplify IT
Every organization will likely start in a different place on the simplification journey, or address multiple areas simultaneously. At DXC, we always suggest an IT4IT Capability Scan as the first step. It provides a structured, priority-ranked, detailed route forward, identifying quick wins while laying a clear path to your organization's IT goal state.
Let's put that into context. For example, a badly needed technology refresh or the removal of redundant or unused applications may be the first priority before embarking on a data center exit.
Now, onto how IT4IT can support your IT transformation — no matter your starting point.
Application rationalization
Rationalizing applications is a key step toward simplifying your IT estate. Enterprises can better understand what applications they are running, who is using them and the demand on IT capacity and resources — which is near impossible in a tangled legacy web.
The IT4IT methodology can help to paint an accurate, detailed, real-time picture of how an organization uses its IT infrastructure. The discovery process can identify zombie servers hosting applications that are no longer being used, over- and under-utilized servers, and cases where the organization is running multiple applications that all do the same thing.
Using automation and systematic, data-driven insights, application rationalization simplifies operations, drives down costs and serves as a key step on the road to cloud migration. Done right, it can slash the number of applications in the portfolio by more than 60 percent.
In situations where multiple apps should be consolidated into one, the most important factor is getting buy-in and authority from business leaders to retire redundant apps. Fortunately, IT4IT can help: the approach provides the clarity and context needed for crucial buy-in, funding and organization-wide motivation for modernizing your IT.
The decisions on which applications to retain and which to retire can be relatively straightforward based on cost, number of impacted users, strategic relationship with the software vendor or strategic value to the business.
End-of-life applications present unique challenges. While business leaders may be reluctant to abandon a familiar application that has served the company well for many years, IT leaders should make the case that End of Service Life (EOSL) software that is no longer eligible for support is expensive to run, might violate regulatory requirements and could pose security risks.
Continuous optimization
Workload optimization is key to making sure multicloud IT environments are running at peak efficiency. Workload optimization automatically allocates resources to the workloads that need them the most, optimizing application performance. Toolsets automatically maximize workload density and resource utilization, minimizing costs no matter where the application is running.
In addition, workload optimization tools can place, size and move workloads while maintaining compliance with regulations and policies. And they deliver business agility by providing all workloads the necessary resources in real time, so new services can be provisioned to meet business demand.
Workload optimization tools are vendor- and environment-independent, and analyze the storage and network layers at a granular level to identify bottlenecks across the stack. They also encompass strong capacity planning and modeling capabilities to reduce manual work and allow faster planning for refreshes, capacity changes and migrations.
To ensure you can steadily optimize, it's vital that your plan of action doesn't just plan for your goal state; it has to ensure ongoing stability throughout your IT transformation, too. With IT4IT, we outline the process in practical, manageable stages, ensuring careful control and laying solid groundwork for a lasting culture of innovation and optimization.
Intelligent automation
Another key driver of efficiency is IT automation. With this in mind, IT4IT is specifically designed to flexibly align with your organization's internal automation goals.
At DXC, we support your enterprise to achieve intelligent automation through deploying tools that gather telemetry data streams on the performance of devices, services and applications. As operational constraints are identified, intelligent AI-based analytics recommend ways to improve processes through a cycle of data collection, analysis, modeling and experimentation.
Lean processes can eliminate inefficiencies and continually improve delivery, optimizing workflows and team performance for better quality and outcomes. Robotic process automation can slash transaction time by 65 percent, reduce operational time by 50 to 80 percent, and cut application deployment from 3 hours to 15 minutes.
Automated processes such as rules-based filtering of requests and grouping requests under a single incident help resolve most trouble tickets without human intervention. In times of high demand, digital agents and chatbots can function as virtual contact centers, eliminating the need for working from one physical location.
Data mining, machine learning and predictive analytics also can identify ways to reduce costs and deliver innovation in areas such as applications management, IT delivery operations, DevSecOps enablement and self-service.
With the IT4IT methodology, we're able to deploy and manage optimizations across these areas with a tangible roadmap. That way, your path to future-proof IT becomes clear-cut and manageable, from the start.
Conclusion: Simplify, optimize and reduce costs
Simplifying and optimizing existing systems and infrastructure can create immediate benefits for IT operations and the business. Utilizing the IT4IT methodology, we help organizations leverage these key strategies to help maximize returns on investment:
Assess your end-to-end technology environment. Most IT simplification efforts focus on data center and resource consolidation, but enterprise IT organizations should also focus on refreshing technology and optimizing availability and performance for current operations — and future growth.
Rethink traditional approaches to infrastructure management. Resilient IT environments must establish strong service-integration policies, governance and security across IT and suppliers, providing complete visibility into operations and business processes. And consider moving to a more consumption-based model to control costs and increase flexibility. These efforts will enable further optimization of IT activities and resources.
Invest savings in modernization. For most organizations, simplifying and optimizing IT could generate millions of dollars in immediate savings by eliminating assets, streamlining operations and reducing staff time needed to maintain legacy environments. Rather than just cutting costs, organizations should develop a long-range plan for managing a multicloud environment with both on-premises legacy applications and cloud-native applications.
By focusing on simplifying and optimizing IT with IT4IT, enterprises can take immediate steps to streamline operations, lower costs and create more resilient operations during changing business conditions.
How DXC can help
When it comes to implementing IT4IT in your organization, an IT4IT Capability Scan makes the overwhelming manageable.
Outlining concise, concrete and value-centric stages, your IT4IT Capability Scan maps an actionable route ahead, turning an ungraspable IT daydream into a tangible, feasible reality. To get IT4IT on the agenda, an IT4IT Capability Scan's the smart place to start.
Find out how DXC can support your immediate and long-term modernization goals with IT4IT. Talk to us to schedule an introductory call, and develop your roadmap for change.